Metra ticket design: January 2008
By Nicholas Rougeux, posted on December 23, 2007 in Travel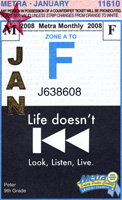 Metra January 2008 monthly pass
A winner from the second annual Metra Safety Poster Contest kicks off the new year with a simple, yet effective reminder to stay safe around trains: Life doesn't rewind.
Peter Prindville from St. Ignatius College Preparatory won the ninth grade division for the 2008 poster contest geared toward raising awareness about safety around trains. His design depicting a rewind symbol is a clever way of conveying a powerful concept. Congrats, Peter!
Since there were winners from each grade level up to 12, I wonder if Metra will be using the winning design from each grade for all the 2008 tickets. Some of the designs might not translate well to such a small medium so they might not.
January's design reminds me of the first few tickets I bought in 2004 for August and September but thankfully it's not nearly as tacky.
The Metra ticket design gallery has been updated with January's design.