Metra ticket design: February 2008
By Nicholas Rougeux, posted on January 30, 2008 in Travel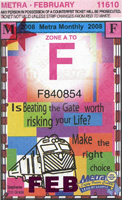 Metra February 2008 monthly ticket
It looks like all the designs for 2008 might be from the Metra Safety Poster contest that I mentioned in my post about the January 2008 ticket.
February's ticket features the winning design by Stephanie Schmidt from Cary-Grove High school. Stephanie's design echos the thoughts I often have when I see fellow commuters race to beat the train—Is beating the gate worth risking your life?. It also adds a wonderful splash of color to a cold and fridgid month.
Just a few days ago, while waiting for the train, I saw someone sprint across the tracks so they could beat the train when it was only a few hundred feed away and the crossing bell was clanging. This time last year, he would have been stopped by the local police that were stationed at that crossing handing out tickets to people like him. The threat of costly tickets deterred people from trying to beat the trains but only temporarily, for soon after the police stopped monitoring that crossing things went back to "normal."
Despite the recent 10% fare increase set to take effect February 1, many tickets still have the old price on them—probably because they were printed before the budget debacle was settled.
The Metra ticket design gallery has been updated with February's design.