Metra ticket design: March 2008
By Nicholas Rougeux, posted on March 1, 2008 in Travel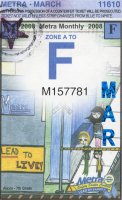 Metra March 2008 monthly ticket
Happy March, everyone. A new month means a new Metra ticket design. March's design comes from seventh grade winner in the Metra Safety Poster contest, Alexis Dee from Central Park Elementary School. It encourages others to lead by example at all ages.
I've always respected those who had the innate talent to draw. It looks like Alexis has that knack and is having fun with it. Kudos to her.
Like February's ticket, the price on March's ticket wasn't updated to the new fare. Maybe they'll update it for April's? If not, it could start causing some confusion.
The Metra ticket design gallery has been updated with March's design.