Metra ticket: May 2008
By Nicholas Rougeux, posted on May 1, 2008 in Travel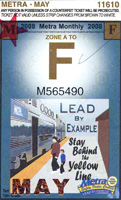 Metra April 2008 monthly ticket
Happy May, everyone. A new month means another new Metra ticket design. Tori was the 12th-grade winner in the Metra Safety Poster Contest, telling passengers to "Stay Behind the Yellow Line."
Tori did a great job with her vector illustration, especially the reflections. I've always been impressed by those who could create vector graphics of reflections. I never got the hang of it.
May's ticket reminds of February's from 2005. The same advice was given but the illustration was kind of disturbing: it shows a person closing their umbrella just feet in front of what looks like a train zipping along. I know it's important to promote safety, but yikes!