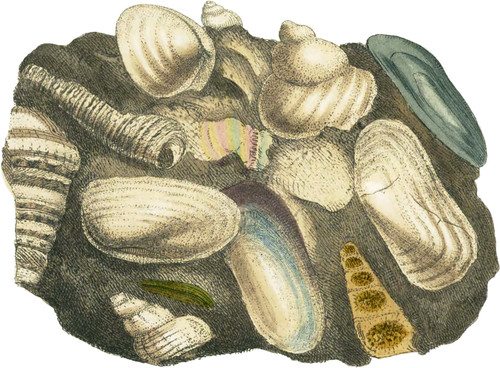 XIV
Argilla Marga
Argillaceous Marle
Class 1. Earth.
Ord. 2. Mixed.
Gen. 5. Argil*.
Spec. 1. Argillaceous marle.
Div. 2. Semi-indurated.
Spec. Char. Argil and carbonate of lime, in which the former predominates.
Syn.

Marga argillacea. Waller, v.

1. 72

.
Mergel. Emmerling, v.

1. 491

.
La Marne. Brochant, v. 1. 569.
Argile calcarifère. Haüy, v.

4. 455

.
This is represented as showing the disinguishing characters, or parts, of marle, which, if minutely combined, might require a chemical analysis to determine them; and may be useful to young mineralgists. Calcareous marle consists of carbonate of lime from 66 to 80 per cent. Kir. v. 1. 94. Marle properly so called consists fo equal parts of clay, and carbonate of lime. Argillaceous marle contains about three parts clay, and one chalk. Mr. Andreas, in Kir. v. 1. 192.
The present specimen, given me by Mr. Pilkington, F. L. S., was found about 190 feet deep, in digging a well for Lord Redesdale, now C. Poole's, Esq., at Streatham, Surry.
It is of a semi-indurated toughish texture, but readily falls into pieces in a damp atmosphere. The clayey parts are evidently mixed with carbonate of lime, and some of the shells are little else, although they retain their original figure so well that we may distinguish some of the species†. The pearly oyster shells only seem to have assumed a black tinge. The other pearly shell, perhaps Arca Nucleus, Linn. Gmel. v. 1. 3314. retains its original lustre, its gluten being less easy to decompose‡. There are other pearly shels in the mass, but not easily to be made out. The clayey-looking part does not effervesce with vinegar, neither do the pearly shels. The chalky ones readily do. Marles depending on their proportions of lime, clay§, or sand, are used as manures, each sort being adapted to the nature of the land they are applied to.
One kind of marle has lately been found to be a useful stucco, when properly prepared.
* Common clay, which may be distinguished under most combinations by what is commonly called an earthy scent.
† These, on breaking the mass, leave half their substance on the convex side of the matrix, and the other half in the mould.
‡ See Mr. Hatchett's ingenous paper in Philosophical Transactions for 1798.
§ Clay must be understood as a mixture here of argil, silex, and iron.