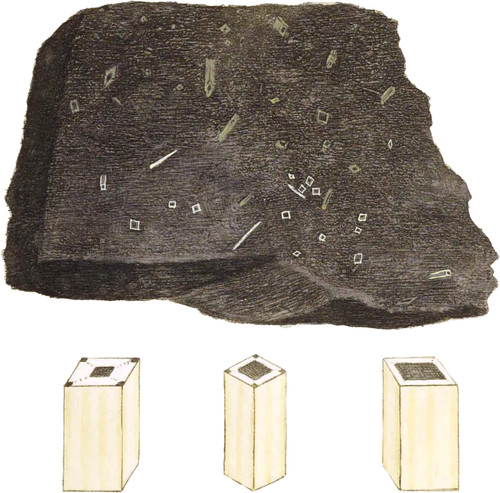 CXVI
Macle or Chiastolite
Class 2. Earths.
Order 1. Homogeneous.
Syn.

Macle Basaltique, &c. De l'Isle,

2. 440

.
Macles. Daubenton,

16

.
Chiastolith. Karsten,

28

.
Macle. Haüy,

3. 267

.
A black slate holding in it great numbers of spinulæ of an Echinus spatagus*. Woodward's Catalogue of Fossils, t.

2. 55

.
Mr. Davey having in the summer of 1804 found this substance on the summit of Mount Skiddaw in Cumberland, I am indebted to him for the power of adding it to the British list; and we had supposed it entirely new to Great Britain, had not Professor Hailstone assured us that it had not escaped the great founder of that professorship, Dr. Woodward, who, however, according to the knowledge of his time, considered it as a petrifaction. The same substance is said to have been found in some part of Scotland.
We do not know of its being mentioned by an author of the Mineralogy of Scotland, and indeed very few of the Mineralogists of the present day have mentioned it. The same sort, and in a similar gangue, has been brought to England from Bayreuth, and another sort has been imported occasionally from Lisbon, which are without a gangue, and much larger than these. They are religiously esteemed on account of the resemblance of the black part to a cross, and are sold by the monks as of great use to the possessor, generally somewhat mutilated to humour the appearance of the cross, and to fit them for wearing, as preservatives from all evils. Mr. Humphrys has a specimen of this last sort about three quarters of an inch broad at top, and nearly resembling ours.
Mr. Hailstone promised to lend me that in Dr. Woodward's collection at Cambridge, if different or better than the one figured; and as I have not received it, we may conclude it is nearly the same.
As far as I have seen, it is crystallized in slightly rhomboidal four-sided prisms of about 85° and 95°, according to De l'Isle. The laminæ seem parallel to the faces of the column, and there appears by the construction and meeting of the laminæ that there may be a diagonal division. Fracture fine, earthy, approaching splintery. According to Haüy, it appears that the integrant molecule is the tetraëdron.
I hope we may meet with this fossil in greater perfection one day in Great Britain, so that I may be able to give a better account of it. I have something so nearly resembling it that I am apt to think they are the same, with an almost entire black centre, and merely a whiter pearly covering. The black is generally supposed to be like the shale or substance the crystals are enclosed in, so that the whiter part is chiefly spoken of; and it is very curious that they are so governed by a peculiar modification as to conjoin in such a manner as to envelope each other, yet retaining the rhomboidal form.
Spec. Grav. 2.9444.
As we have seen no analysis, we could not determine its systematic name or place; but we hope to attain more knowledge of it at some future period.
* We have some Serpulæ petrified in marle, whose section much resembles this: the inside part is round, and the four corners more or less rounded. Found in Norfolk by the Rev. Charles Sutton.