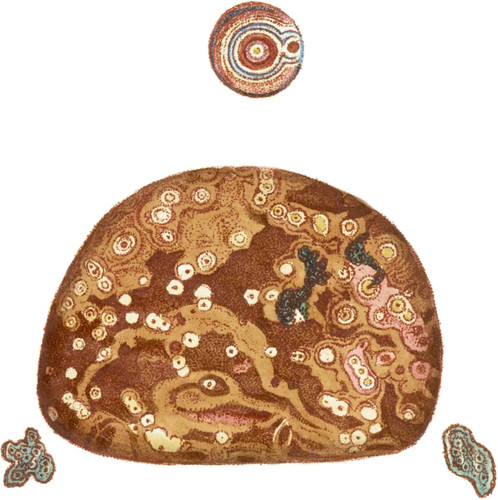 CLX
Silex Quartzum; var.
Quartz, or Agate
Class 2. Earths.
Order 1. Homogeneous.
Gen. 4. Silex.
Spec. 1. Quartzum.
Div. 2. Imitative.
The river Tay in Perthshire, as well as other parts of Scotland, affords many beautiful pebbles, with circles and centres with more or less of the appearance of eyes, &c. The upper one has been cut for ornament, and was a present from Lady Wilson to her daughter Lady Arden. The lower specimen came from the Tay above mentioned, and was lent me by my friend G. Laing, Esq. These pebbles appear to be formed in the rocks in short stalactites forming in coats, which being more or less coloured by Oxide of Iron, form stripes or circles, &c.; the outside rather knobby. This the lapidaries have taken advantage of, as is seen in these pebbles, and it assists in the disposition of the colours. Much seems to depend upon Quartz, Alumine and Iron to increase the beauties of this stone, forming in it Jasper, Agate, Cornelian, &c., so arranged in one stone as to give it variety and beauty*. The parts with greenish specks, which are magnified a little at the bottom, are more porous than the rest, apparently filled with Chlorite.
* The red circles are often specks of red in transparent Quartz.