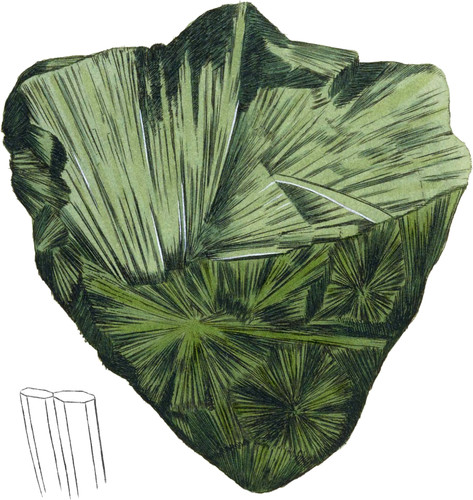 CCXXX
Silex fragilis
Stellated Actynolite
Class 2. Earths.
Order 1. Homogeneous.
Gen. 4. Silex.
Spec. Fragilis.
Div. 2. Imitative.
Syn.

Strahlstein. Emmerl.

1. 418

.
Actynolite. Kirwan,

1. 167, 178

.
Actynote. Haüy,

3. 73

.
This is a beautiful variety of Actynolite; its fibres are somewhat crystallized in flat prisms, diverging more or less from different centres, bundled and spreading.—When separated, the prisms are nearly transparent, 8-sided (six sides are generally described), two of which are commonly attached or adhering to the others; they are of different dimensions, with a coarse roughish appearance, perhaps from the fibres so continually crossing each other at different angles, and disturbing the transparency of the crystals, and their satiny appearance, which sometimes beautifully reflects the light in broadish masses. The piece represented is a fragment of a specimen which seemed to have been part of a large flattish bed or vein, from the Isle of Skye. I have some varieties mixed with Sulphuret of Copper, and some, nearly black, resembling Schorl, with which it is often confounded, as it is also with Hornblende; but all its varieties are much more brittle than either of these.