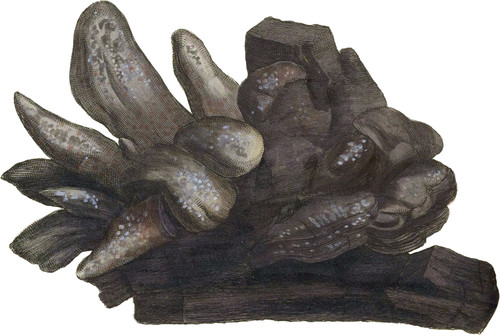 CCCXXIX
Carbo bituminosus
Staffordshire Coal
In Coals we see an astonishing contrivance, not only to preserve ancient and vast woods and forests to provide for future contingencies, but, as it were, to the very produce of each successive term of the former vegetable surface; thus acres are piled upon acres and laid up in the grand storehouse of Nature, that nothing may be lost to all-favoured Mankind!
The present Coal is perhaps little else than the remains of wood, and is comparatively but little altered in its construction from situation. The more charcoal-like parts are rather less distinct than in the Newcastle Coal, and the bituminous part mixed more confusedly with it, and it upon the whole contains less foreign ingredients, as every one may experience in the burning it. If slowly burned it will produce ashes which exactly resemble burnt wood, with very little chemical difference. The figure represents the progress from the Coal at the bottom through the cinder to the white ash. The watery parts go off in steam, and the most volatile, the hydrogen and oleaceous parts succeed; then follow the more bituminous, leaving either carbon or ash, according to the degree of heat and time of exposure; or if burned very briskly and in a strong heat, it might become a clinker. Thus I conceive that we have a sort of analysis.
That Coals differ much under certain circumstances there is little doubt; this kind is apparently nearest related to the Cannel Coal by the present analysis, only instead of being somewhat slaty and very compact, it has an external resemblance to Newcastle Coal, which, however, always produces a more perfect cinder irregularly formed, while this in the process divides into rhombic shapes, splitting and curving into branch-like appearances as a cinder, and becoming sometimes blunter and variegated, passing totally into the shaley ash, outwardly resembling wood ash, and like that very light, as it is extremely pulverulent. I should consider this, nearly as Mr. Mushet's Derbyshire Cannel Coal, to contain
| | |
| --- | --- |
| Volatile matter | 47 |
| Carbon | 48 |
| Ashes | 4 |
| Loss | 1 |
| | 100 |
Great varieties of Coal may be found in the same bed, consequently differing in analysis, some containing Sulphur, more or less Earthy Matter, Iron, &c.