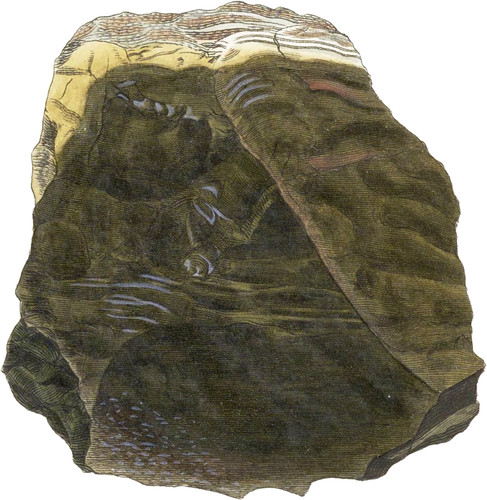 CCCLVII
Silex piceus
Steatitic Pitchstone
Class 2. Earths.
Order 1. Homogeneous.
Gen. 4. Silex.
Spec. 7. Pitchstone.
Syn.

Pitchstone. Kirw.

1. 292

.
Pechstein. Emmerl.

1. 262

.
Petrosilex résinite. Haüy,

4. 386

.
I was favoured with the present specimen from a vale near Clowance Park, in Cornwall, by Phil. Rashleigh, Esq. The outer white parts are said to be Tungstate of Lime, a very rare substance in Great Britain: there are also some Asbcstus and Ruby Copper about it. One great curiosity attendant upon these substances is, that they naturally contain an Alkali, which formerly used only to be procured from vegetables: the great discovery of the basis of Potash and Soda, made by Mr. Davy, has thrown a great light on these and other substances, as to their changes and appearances, which, we need no longer esteem positively volcanic; since the powerful agency of motion, with the attraction of these bases for oxygen, may give an effect which we here see to be analogous to the power of a glass-house furnace. These discoveries thus become of much more consequence, as they lead towards the elucidation of what we were before totally ignorant of.
The fracture is more or less conchoidal, like Pitch, It is as hard as Quartz and nearly as brittle as Glass; and, perhaps, stands next to Cement-like Quartz, tab. 219, but we do not know that the latter has any Alkali in it.
Klaproth found Pitchstone to contain
| | |
| --- | --- |
| Silex | 73. |
| Alumine | 14.5 |
| Lime | 1. |
| Oxide of Iron | 1. |
| Oxide of Manganese | 0.1 |
| Soda | 1.75 |
| Water | 8.50 |
| Loss | 0.15 |
| | 100.00 |