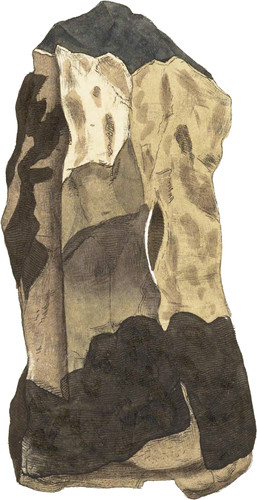 CCCLXI
Hydrogen Bitumen
Inspissated Bitumen, or Mineral Tar
Class 1. Combustibles.
Order 1. Simple.
Gen. 1. Hydrogen.
Spec. 2. Bitumen.
Syn. Mountain or Mineral Tar. Hatchett in Linn. Trans.

4. 131

.
This variety represents Tar so much as to be well entitled to the appellation of Mineral Tar. Naphtha and Petroleum lead equally to this and to the soft elastic Bitumens, branching off on one side to the elastic and on the other side to the unelastic, of which this specimen is one. It is inflammable, and hi other respects, as to odour, &c., it is like the others. It is found, apparently in the greatest abundance, in the neighbourhood of Dumbarton, whence the present specimen: it is otherwise very rare. It is remarkable that the Iron-stones (Septaria) are the chief deposit of it, The present specimen is part of one, and I have a Coal Septarium not much unlike tab. 61, upper figure, that has this soft substance in it. I have also a specimen among Quartz and Yellow Copper Ore from Carrharac in Cornwall, with some in a more brittle state, so as to take the impression of the finger nail, but partly breaking at the same time with a bright pitchy fracture, I have some also in Copper Ore from Lancashire that unites the two; it is accompanied with dark Limtetone.
This substance is dark brown, has rather a greasy appearance, scarcely sticks to the fingers, and looks nearly like the dark or dirty coom of cart-wheels, and as it were lies about the divisions of the Septarium, or in the holes of the other specimens. Smell, when a little heated, as usual to the Mineral Bitumens; by some thought agreeable, though very different from Vegetable Tar. Breaks easily with a rugged fracture; burns with much smoke; is not soluble in Spirits of Wine.
Mineral Tar and Pitch are found in various states in the islands of Trinidad and Barbadoes*, but I do not know that any elastic Bitumens are found there.
* See Mr, Hatchett's admirable account in the Transactions of the Linnean Society.