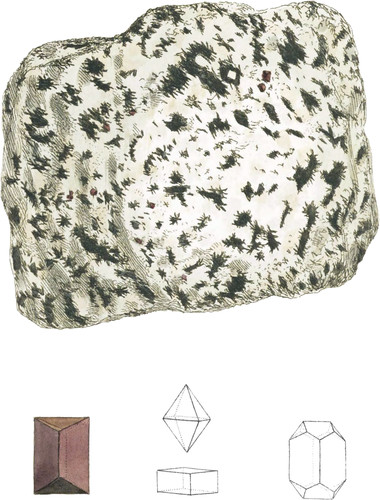 CCCCLXXIX
Titanium (oxygenizatum) siliceo-calcareum
Siliceo-calcareous Oxide of Titanium
Class 3. Metals.
Ord. 2. Mixed.
Gen. Titanium.
Spec. Siliceo-calcareous.
Syn.

Titane siliceo-calcaire. Haüy Tabl.

116

.
Titanit. Emmerl.

3. 379

.
Calcareo-siliceous Titanitic Ore. Kirw.

2. 331

.
This substance had been observed long since in masses of Sienite, from Scotland, composed of Quartz, Hornblende, and Gray Feldspar, but was not understood, its characters Laving been overlooked, as it was generally in very minute and irregular grains. The specimen figured was sent me among other pieces of rocks, by a late dealer, in Aberdeen, six or eight years since. It has been more particularly observed lately, and mostly in octaëdral crystals as figured below; which although so small, and lying in various directions, are very neat in the specimen. The octaëdron sometimes has the corners taken off, as in the other figure. The rhomboidal prism in the centre is what Haüy formerly considered as the primitive; but upon making a fresh examination for the purpose of comparing that variety called Spléne, he has found the rhomboidal octaëdron figured above it to be the nucleus: the incidence of the pyramids upon eacli other is 131° 16′—the small faces at the corners of the right hand figure are primitive.
I find it is not so rare as it is small, and that it has been gathered by many. Lady Wilson gave me specimens of Sienite from Culloden with it, and I have also received it from Scotland by favour of D. Turner, esq.