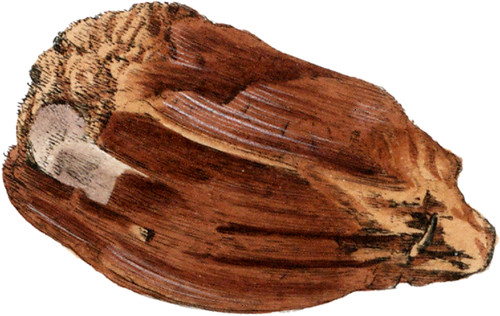 CXLVII
Calx Polyhalites
Polyhalite
Syn.

Polyhalite. Stromeyer in Schweiggers Journal,

21, 297

et seq. see Thompson's Annals

13, 112

.
Fibrous Anhydrite. Jameson, ed

2

. vol. II. p.

249

.
Fasriger Muriacite. Werner.
A recent account of this mineral has been published in the following translation of part of a letter from Professor Stromoyer, as quoted above, by Dr. Thompson:
"I shall conclude this letter by informing you of a new mineral, very remarkable, on account of its composition. I have given it the name Polyhalite. According to my analysis, 100 parts of it contain the following ingredients:
| | |
| --- | --- |
| Hydrous Sulhate of Lime | 28.74 |
| Anhydrous Sulphate of Lime | 22.36 |
| Sulphate of Potash | 27.48 |
| Anhydrous Sulphate of Magnesia | 20.11 |
| Common Salt | 0.19 |
| Oxide of Iron | 0.32 |
| | 99.20 |
"This mineral occurs in the beds of rock salt at Ischel, in Upper Austria, and has been hitherto erroneously considered by mineralogists as Muriacite; and under the name of fibrous muriacite, it has been described as a variety of that mineral substance."
The characters by which it may be recognized are its partial solubility in water, a hardness superior to Fibrous Gypsum; also a greater specific gravity, and a compact fibrous structure; between the teeth it feels rather gritty: it is nearly tasteless. When fresh broken it has a shining, slightly pearly surface, which becomes dull and rather whiter by exposure. Its fibres penetrate both ways into the Muriate of Soda, which serves for its matrix; they are of a dull red in the middle, and yellow brown at their extremities. The salt in which they are imbedded is white.