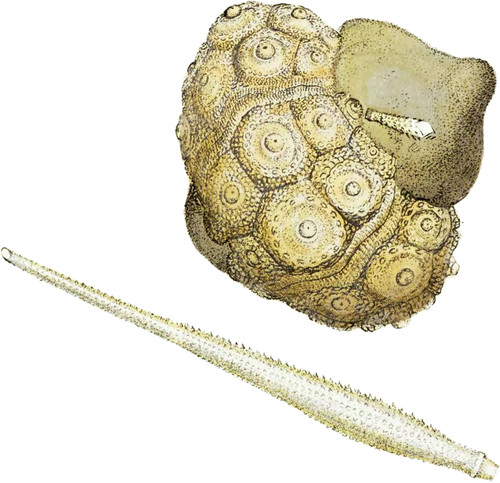 CLII
Calx carbonata, echiniformis
Echinius-formed Carbonate of Lime
Class 2. Earths.
Order 1. Homogeneous.
Gen. 3. Lime.
Spec. 5. Carbonate of Lime.
Div. 2. Imitative.
The apparent loss of the animals in these Echini is as yet unaccounted for, and an immense quantity must have been lost to our view; although on the examination or analysis of Earths, the animal substances have never been discovered. Mineralogists have indeed lately discovered alkali in some Basalts, &c. which was always supposed to belong to the vegetable kingdom. This specimen was found in a chalky rock at Saffron Walden by my friend Thomas Walford, Esq. We have the spines from various places. Its great curiosity is, that the shell part is extremely perfect as a Carbonate of Lime, although filled up with Flint; which has scarcely disturbed it, notwithstanding its having overflowed as it were at both ends. This is also said to be a variety of the Echinus Cidaris; to which we do not readily assent. P. Rashleigh, Esq. has figured another species, Echinus circinatus, under similar circumstances; which not being uncommon, serves well to show that nature performs the same offices by similar means in various places; and, as Mr. Rashleigh observes, its particular structure will point out to the theorist that it is not the immediate effect of fire, in the common acceptation of that term, but, with the aid of other principles, modifying the operation so as to give another idea.