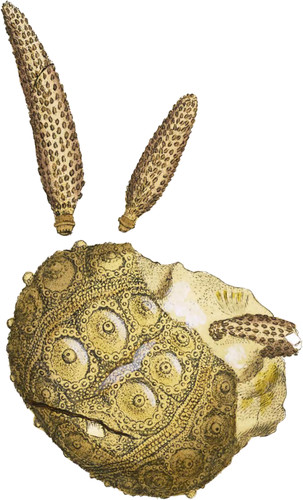 CLI
Calx carbonata, echiniformis
Echinius-formed Carbonate of Lime
Class 2. Earths.
Order 1. Homogeneous.
Gen. 3. Lime.
Spec. 5. Carbonate of Lime.
Div. 2. Imitative.
That animals are indebted to minerals is very evident, although vegetables may be the instruments by which their nutriment is prepared. We may also say that great part of the mineral world is much indebted to the animal for its present appearance; for, under certain circumstances, nature allows the animal construction to remain long after the animal itself. In this instance, it might have been a doubt whether a construction so complete as this Echinus and its spines could be an infiltration of Carbonate of Lime in place of the case, or rather bone, or the remains of the Carbonate of Lime which existed while the animal possessed it. Its fracture is sufficient to determine it to be Carbonate of Lime, without any other trial; and upon examination it is found to be nearly pure.
Mr. Hatchett, in his valuable account of the shells and bones of animals, proves the case of a recent Echinus to be bone, as it contains due proportion of the Phosphate of Lime. This is therefore the more curious, as there is no Phosphoric acid remaining to destroy the crystallized character; the carbonic acid predominating effectually in that particular. To know the animals that are thus found it were petrified may not seem at all the province of the mineralogist, nor is it perhaps strictly necessary; yet it is convenient to have such information, as it may be sometimes of great importance; and it must appear remarkable to all, that although the petrified remains of other animals are very universal, yet those of our own species are never found. The effects of the change in the Echinus are remarkable, as it appears to be extremely gentle; for the parts of the shells which are of a delicate structure, and are easily separated in common decay, are often very little disturbed by the changes of animal substance. The animal parts, exclusive of the Carbonate of Lime, must pass away, while Carbonate of Lime, or Flint, is filling up the vacancy.
This species of Echinus is either a new one, or a variety of Echinus Cidaris of British Miscellany, and was sent to me from Queensford by my kind friend T. Mead, Esq. The soil in which it was found is a chalky marle.