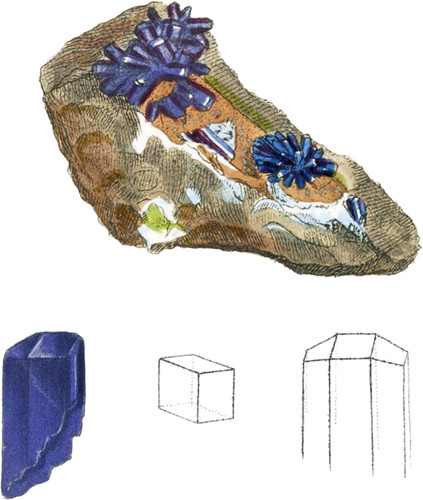 CCIII
Cuprum carbonatum
Crystallized Blue Carbonate of Copper
Class 3. Metals.
Order 1. Homogeneous.
Gen. 10. Cuprum.
Spec. 5. Carbonatum.
Div. 1. Crystallized.
Syn.

Cuivre oxidé bleu. De Born,

2. 329

.
Azure de Cuivre. De Lisle,

3. 341

.
Kupfer lazur. Emmerl.

2. 246

.
Blue Calciform Copper Core. Kirw.

2. 129

.
Cuivre carbonaté bleu. Haüy,

3. 562

.
Blue Carbonate of Copper has rarely been seen crystallized, especially in the present forms, and has not, I believe, been before mentioned as a native of any part of Great Britain. The present rare specimen is preserved in the cabinet of G. Laing, Esq., and comes from Wanlockhead mine. I have some beautiful specimens from Cornwall, undoubtedly of this kind, but could not be certain of their formation until compared with these.