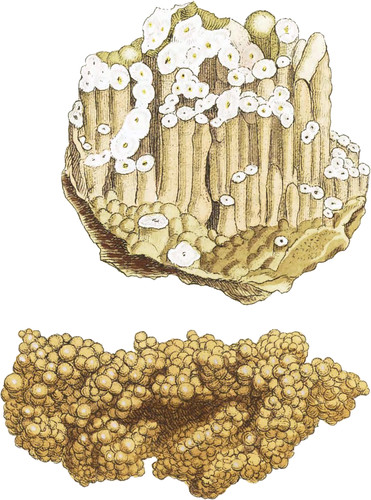 CCII
Zincum oxygenizatum
Stalactitical Oxide of Zinc, or Calamine
Class 3. Metals.
Order 1. Homogeneous.
Gen. 6. Zincum.
Spec. 1. Oxygenizatum.
Div. 2. Imitative.
Syn. Zinc oxidé concrétionné. Haüy,

4. 162

.
Calamine, or Oxide of Zinc, is here truly imitative. In the present instance it much resembles Flos-Ferri*, which, however, is generally more varied in its form. This is a rare specimen, which was presented to Sir Joseph Banks by my kind friend G. Laing, Esq., and comes from Wanlockhead mine, in Scotland.
* Flos-Ferri is well known from the Styria Iron mines, and is mostly of a fine white, and coralliform shape, like tab.

9

, but with a surface finely covered with minute speculated crystals, giving it a soft downy appearance. We have moderate specimens from Scotland. The lower figure is from a botryoidal specimen from the same place.