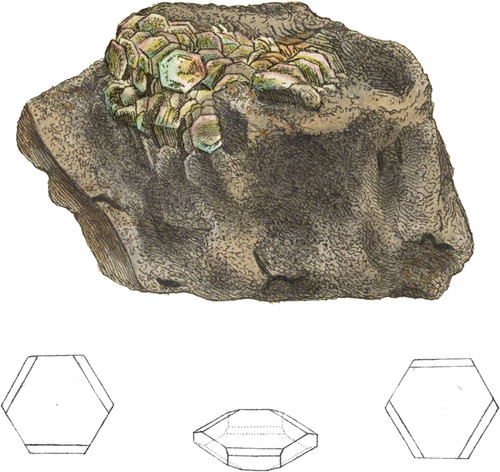 CCCCXXXVIII
Calx carbonata
Carbonate of Lime
Div. 1. Crystallized.
Var. In hexaëdral plates.
Bournon Traité,

p. 14. tab. 4. fig. 52

.
Carbonate of Lime of this form is of very rare occurrence; nor do I know of it from anyplace but Dinas Mouddy in Merionethshire. Although it is nearly allied in form to tab. 198, yet they have the more general appearance of mere hexaëdral plates, and if green they would not be much unlike the Arseniate of Copper, tab. 36; but that has inclined edges, as explained in that figure. The present has the six sides of the column as in tabs. 305 and 306, but extremely short, and the truncated ends are alternately bevilled, and the bevilling is nearly the same as the equiaxe modification. Although a dull specimen, yet some crystals have an iridescence about them. The gangue is a mixed Carbonate of Lime with Pearl-spar and some small crystals of Quartz and Galæna.
This specimen was long a favourite of Mr, Day's.