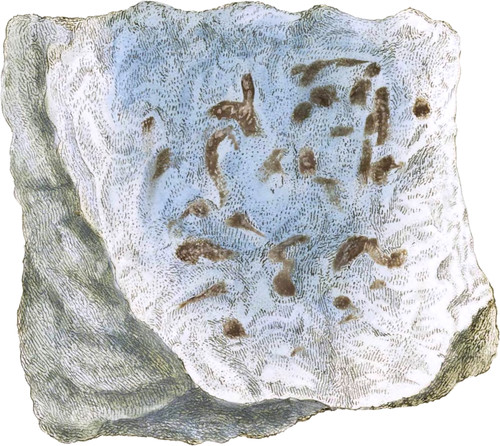 CCCCXLIX
Calx sulphata
Sulphate of Lime
Class 2. Earths.
Ord. 1. Homogeneous.
Gen. 3. Lime.
Spec. 4. Sulphate of Lime.
Sect. 2. Common Sulphate of Lime.
Div. 3. Amorphous.
The lower figures of Tab. 236, exhibit the common red and white varieties of Amorphous Gypsum. That part of the present specimen which is of a blue colour has by some been considered as a variety of the Anhydrous Sulphate of Lime; (see Exotic Mineralogy, tab. 39,) so ably described by the Count de Bournon in the Transactions of the Geological Society, under the name Bardiglione*. Its softness and the considerable loss in weight which it suffers upon being heated red hot, determine it to belong to the common Sulphate of Lime; or, as the Count de Bournon would express it, the Hydro-sulphate of Lime.
Blue is a colour extremely scarce in Gypsum, and it is tolerably bright in this specimen; it does not appear to have been noticed by any author. The outside of the mass of which the figure represents a part, is very soft and nearly opaque; the inside is harder and more transparent as it approaches the blue, with which it is gradually blended; the blue in the centre being the hardest part. I obtained this specimen at a warehouse in which immense quantities of Gypsum had been collected from Nottinghamshire to be manufactured into manure.
It is sometimes found greenish, &c. as at Bilton, near Knaresboroughj by my friend Dr. P. Murray.
* In this paper the Count hints at the probable existence of Bardiglione in the Salt mimes of Cheshire. I should be glad to find this suggestion verified.