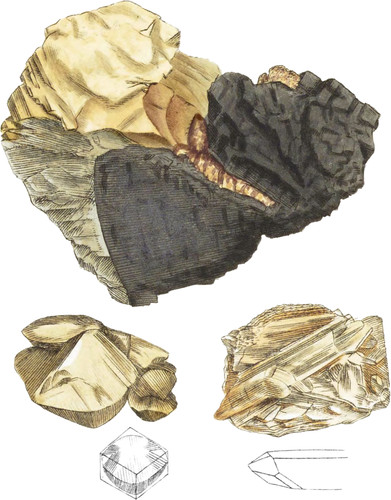 CCCCLXXXV
Plumbum sulphatum
Sulphate of Lead
Class 3. Metals.
Ord. 1. Homogeneous.
Gen. 15. Lead.
Spec. . Sulphate.
Syn. Bournon's Catalogue

356

.
The present figures of Sulphate of Lead extend, with what have been done before, to nearly all the varieties at present known in Great Britain; but there are many intermediate ones.
The white part of the upper figure has not the common appearance of a Lead ore, but in the fracture looks like Sulphate of Barytes; it is softer, heavier, and has more lustre than the Barytes, but may be detected with certainty by means of the blowpipe on charcoal. It has a few faces on the somewhat plated edges.
The lower specimen has rather a new appearance, the longer bars (if I may so call them) are brighter, in general appearance, than the above, and are long very acute rbomboidal prisms: the small crystals are also acute rhomboiclal prisms with various modifications not unlike some Sulphates of Barytes: they have the plated fracture parallel to the primitive.
The left hand figure represents a large, almost lenticular crystal, cor responding nearly in form with some minute ones from Anglesea. I suppose this to be from Derbyshire; it was in Mr. Day's collection.
All these specimens have indications of laminæ parallel to a rhomboidal prism, such as are figured in tab. 153 and 341. The Count de Bournon has been led by reasoning upon the forms of the crystals of Sulphate of Lead in general, to adopt of late a rhomboidal prism of about 101° 30′ and 78° 30′ for the primitive form; a circumstance greatly in favour of what I have stated in the description of tab. 341, and which only wants correct measures of the fractures to verify it.