About
This site is a faithful reproduction and restoration of John Gould's A Monograph of the Trochilidæ, or Family of Humming-Birds, a magnificent work of ornithological art and science that was published in six volumes between 1848 and 1887.
A Monograph of the Trochilidæ, or Family of Humming-Birds is a monumental work by John Gould, the English ornithologist, that depicts and describes all the known species of hummingbirds at the time. It consists of 5 volumes containing 360 hand-colored lithographic plates that were published between 1849 and 1861. The plates were drawn and lithographed by Gould and his assistant Henry Constantine Richter, and printed by Hullmandel & Walton, and also by Walter & Cohn.
The monograph is considered one of the finest examples of ornithological illustration ever produced, as well as a scientific masterpiece. Gould's passion for hummingbirds led him to travel to various parts of the world, such as North America, Brazil, Colombia, Ecuador, and Peru, to observe and collect specimens. He also received many specimens from other naturalists and collectors.
Included in the lengthy introduction was also a complete list of 416 species. A supplementary volume by R. B. Sharpe was published in 5 parts between 1880 and 1887 after Gould's death with an additional 58 plates and many descriptions written by Gould before his death. Though Gould is often named as the main author and illustrator, his wife Elizabeth Coxen and Edward Lear are known to have contributed heavily, with Gould taking credit for their work.
Scans of the original monograph were used as the source material for the illustrations and descriptions on this site. They are freely available on the Internet Archive, contributed by the Biodiversity Heritage Library.
---
Scans of the 418 plates illustrated for all 5 volumes and the supplement were analyzed and restored to their original vibrant colors in a process that took nearly 150 hours to complete. As much of the original plate was preserved—including the delicate colors of the scenic backgrounds in each vignette.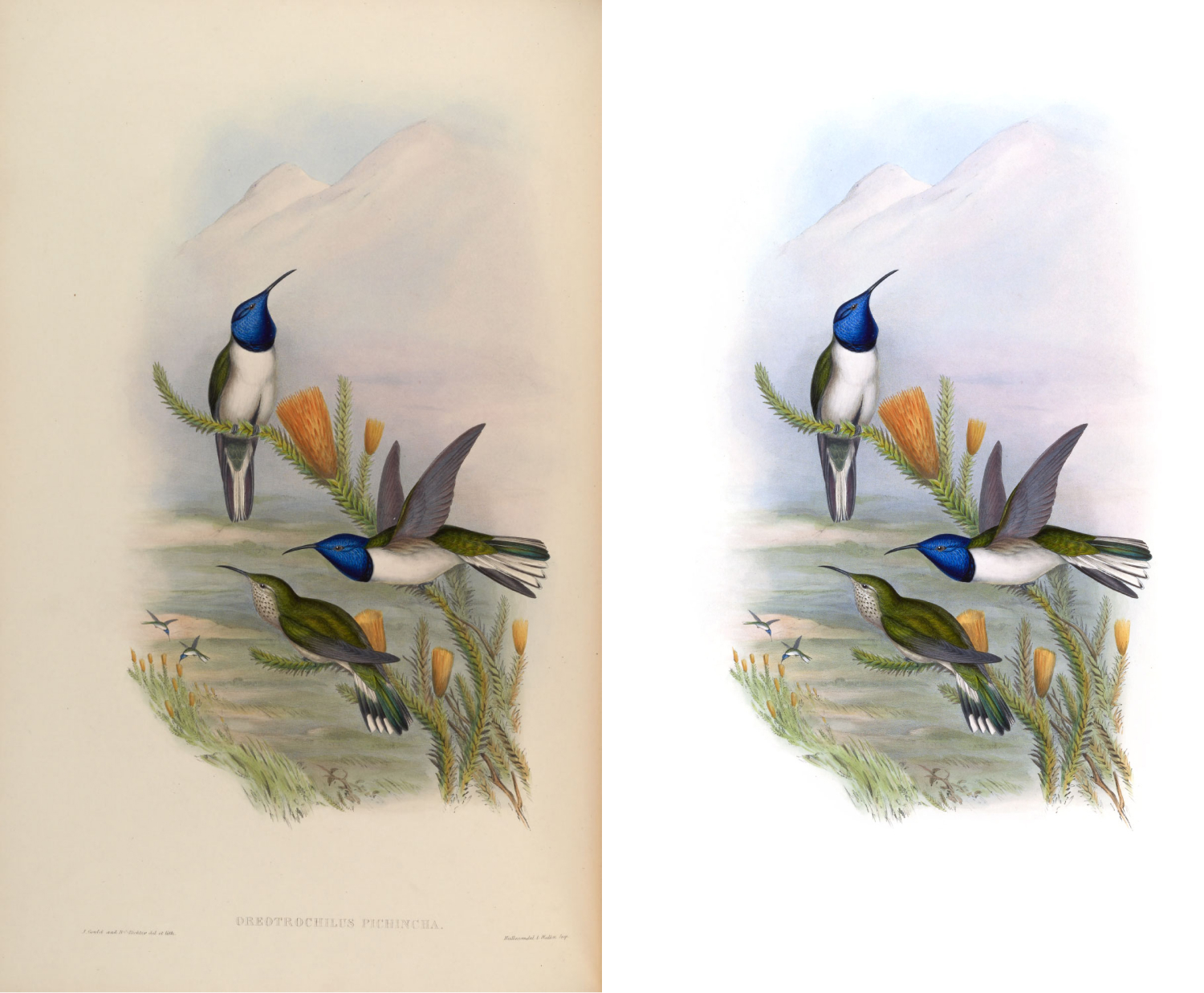 After restoration, a hummingbird from each plate was extracted to be showcased when browsing illustrations and on the poster. From that bird, a key identifying color was sampled as the basis for arranging them by color. Sorting these colors by hue shows that most hummingbirds have some shade of green as their identifying color. Many hummingbirds comprise many more colors than just one but only the key identifying color was selected for this analysis.