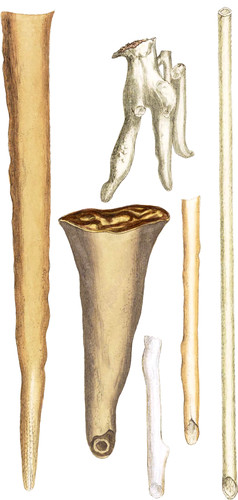 VI
Calx stalactites
Stalactitical Carbonate of Lime
Class 2. Earth.
Order 1. Homogeneous.
Gen. 1. Lime.
Spec. 2. Carbonate of Lime.
Div. 2. Imitative. Haüy, v. 2. 168.
Syn.

Stalactite. Kir. v.

1. 88

. Born, v.

1. 298

.
Chaux carbonatée concrétionnée. Haüy, v.

2. 168

.
Carbonata var. stalactitica spatosum et Stiria. Gmel.

100

.
Stalactites, from their nature extremely various, are chiefly found on the roofs and sides of caverns, sometimes lining them in a very grotesque manner, hanging also very fancifully in the form of icicles, hollow or solid. They vary in colour like other carbonates of lime, and have a like fracture and nucleus to the crystallized ones.
The left hand figure is part of a solid stalactite crystallized, with numerous ends of the rhomb lying together, giving an undulated appearance, and on the whole not unaptly resembling an unfolding bud. These are reckoned rare, and are found in a deep mine at Castleton, Derbyshire.
The upper middle figure is solid, oddly divided, of a whitish and somewhat waxy appearance, altogether of the crystallized fracture, some parts showing the solid angle of the nucleus. These are continually forming at Castleton in Derbyshire.
Right hand figure cylindrical, hollow, very straight and diaphanous, its outside smooth, inside crystallized in somewhat irregular spiculated rhombic forms. I was favoured with this very curious specimen from Stonesfield quarry in Oxfordshire, by Dr. Williams the botanical professor.
The brownish quill-formed stalactite, as the fistulose ones are often called, are common in many places. The darker sorts, somewhat resembling the middle one, are often found of various forms and dimensions. These dark ones may be coloured by clay. Kir. v. 1. 87.
The lower middle figure is mostly found of an opaque and chalky appearance in wet cellars on the roofs and walls. Lady Wilson finds them continually forming in a drain at Charlton house. The Rev. Mr. C. Cutton and the Rev. Mr. W. Kirby have favoured me with specimens found by them at Richmond and Kew. They occasionally occur in cellars in London, &c.